Terry Frost Blue Madron series, this etching and aquatint is signed and dated 1997. On wove paper and annotated P/P I, according to Kemp in his Catalogue Raisonne image number 161, there is only this 1 Printers Proof in the series of 20 prints.
CONDITION
In excellent condition, gallery framed and glazed to protect the image.
ARTIST INFORMATION
Sir Terry Frost RA (1915-2003) was a giant of British abstract Art. He was born in Leamington Spa in 1915, and left school at the age of 14. Frost worked at Curry's Cycle shop and Armstrong Whitworth in Coventry until the outbreak of WW II. He served in Palestine and Greece, before being captured in 1941. Frost remained a prisoner until the end of the war.  This experience that changed his outlook on life and introduced him to the possibilities of art. In a Bavarian  prison camp Frost began to paint and draw, encouraged by young artist and fellow prisoner Adrian Heath.'In prisoner-of-war camp I got tremendous spiritual experience, a more aware or heightened perception due to starvation, and I honestly do not think that awakening has ever left me.' Frost worked as Barbara Hepworth's assistant in 1951 and had his first solo exhibition at the Leicester Galleries in 1952. Frost taught at many institutions including the Bath Academy of Art (1952-4), Leeds University (who awarded him he was the Gregory Fellowship in 1954) and Reading University. In 1960 Frost had his first solo show in New York at the Barbara Schaefer Gallery. Whilst there he met some of the leading American Abstract Expressionists, and the experience encouraged him to start painting on a much larger scale. He was awarded the John Moore's Prize in 1965, elected to the Royal Academy in 1992 and knighted in 1998. A retrospective of his work was held at the Royal Academy in 2000. Frost's work reflects his gratitude and joie de vivre at having survived wartime incarceration; it is full of colour, light and the pleasure of existence 'a sense of delight in front of nature'. Frost took his inspiration from nature; the sun, moon, water, boats and the female form are recurring motifs abstracted into sensuous circles and curves. These shapes are often coloured in dramatic blues, reds, oranges, yellows and blacks. Frost believed that the interplay of colour and shape could realise an event or image more successfully than imitation. He combined strict formal discipline with great expressive freedom and a natural sureness of touch.
11.75" x 11.75" (22.5" x 22.5" framed)
1997
Blue Madron I
Sold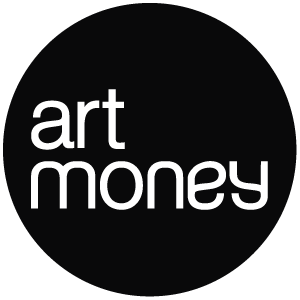 We partner with Art Money to make art more accessible.
10 payments. 10 months. No interest.
Free UK delivery
Free USA/EU delivery over £1500
Original Art Work Guarantee
Try at home
14 day return policy
The safe and timely delivery of a client's artwork is a key priority for White Court Art.
We pride ourselves on the quality of the packaging of the pictures we sell. Over 70% of our sales go to the USA. Specialist Art Insurance is included in final quote as standard.
The transport of your painting will be arranged as soon as full payment has been received and cleared. Tracking numbers will also be forwarded on to client .We endeavor to keep costs as low as possible, as a guide and dependent upon picture size courier costs are as follows:
All import duties and local taxes are the responsibility of the purchaser.
Free UK Delivery
Free EU Delivery purchases over £1500
Free USA and Canada delivery purchase over £1500
For all other regions your shipping costs are calculated at checkout
Dispatch normally within 5 working days
If for any reason you are not happy with your purchase you can return it within 14 days of receipt. This does not apply to any private commission pieces which are normally non-returnable.
In the unlikely event of damage in transit White Court Art must be informed immediately upon receipt. A full refund for the price of the work exclusive of postage and packaging costs will be made upon return. Clients are responsible for the safe return of the item in its original condition and packaging to claim a refund. We are only too happy to assist in this process and offer advice on sending the artwork back to avoid damage in transit.
With White Court Art you can have confidence in our safe and secure payment methods Payment methods.
White Court Art guarantees the authenticity of all the art work we sell giving you peace of mind for your purchase.
All the artists on our platform are fully certified.
Follow this artist
Receive email updates about this artists
Sir Terry Frost RA (1915-2003) was a giant of British abstract Art. He was born in Leamington Spa in 1915, and left school at the age of 14. Frost worked at Curry's Cycle shop and Armstrong Whitworth in Coventry until the outbreak of WW II. He served in Palestine and Greece, before being captured in 1941. Frost remained a prisoner until the end of the war.  This experience that changed his outlook on life and introduced him to the possibilities of art. In a Bavarian  prison camp Frost began to paint and draw, encouraged by young artist and fellow prisoner…